Dry Herb Vaporizers
DynaVap stands out for revolutionizing the world of dry herb vaporizers. Our innovative products offer a smoke-free vaping journey, redefining what it means to vape. Unlike the typical nicotine devices and electronic cigarette products, our portable vaporizers are battery-free, promising a sustainable and long-lasting experience. With the use of our dry herb vaporizers, you can enjoy the flavorful vapor without worrying about your device's battery life. Experience excellence with DynaVap today.
What Comes in a Vape Pen Starter Kit?
Our starter pack collection includes a range of vaporizers including the "B", the "M" Plus, the VonG, and the Omni. Each vape kit is uniquely designed to cater to different user preferences in terms of aesthetics and vapor production. Whether you're looking for an entry-level vaporizer or an advanced model with adjustable airflow, our selection makes sure that each user gets the best experience out of their weed vape. At DynaVap, our vape pen starter kits bring quality and satisfaction to any beginner or expert.
Customize Your Vaping Experience With DynaVap
At DynaVap, we believe customization is a key factor in everyone's individual vaping experience. For new users wanting a seamless and enjoyable experience, our vape starter kits are the perfect first step. We offer a variety of starter packs for each type of vaporizer, making sure we cater to each individual's preferences. Our starter packs are not just a convenient way to start your vaping journey, but they are also a step into discovering what works best for you. We invite you to create your own unique vaping journey, choosing the vape pen kit that blends innovation, flavor, and exceptional performance in every draw.
Starter Kit FAQ's
For those new to the world of vaping, it's common to have questions regarding our products. At DynaVap, we're here to guide you through every step into the world of dry herb vaping.
Our vape pen starter kits at DynaVap include all the items you need to enrich your vaping experience from the primary vape device to the smallest of accessories. Whether you're a new vaper or are an experienced enthusiast, our starter packs are a one-stop solution. We offer a different starter pack for each dry herb vaporizer, including the "B," the "M" Plus, the "VonG", and the "Omni." Additionally, we offer starter kits with the accessories you need to enjoy a seamless vaping experience.
DynaVap's complete starter kits are designed to make sure you have a hassle-free journey right from the beginning. Every kit provides you with the tools and accessories you need to become an expert vaper. With our starter packs, you're not just buying a product; you're investing in an unmatched experience. Each kit is uniquely designed to cater to specific user needs, but they all include these items: a battery-free vape device (no charger needed), DynaStash, and a heat source.
Everyone has a different idea of what the best dry herb vaporizer entails. Consider this additional information as you evaluate your options:
Durability: A vape that's able to withstand wear and tear and remain functional is invaluable. We've put all of our devices to the ultimate test and have designed them with stainless steel or titanium components.
Portability: You can enjoy your DynaVap device anywhere without worrying about battery life. This battery-free dry herb vape is pocket-sized and discrete.
Materials: Materials make a big difference in your smoking experience. Your device should be made from safe metals like stainless steel. It's especially important for parts like the heating chamber where your herbs will go.
Flavor experience: Flavor can vary by device and technique. DynaVap vaporizers take your terpenes to a new high and will give you a full-flavor experience.
Efficiency: Get more from less. DynaVap vaporizers allow you to get 75% more vapor production out of your material.
Temperature controls: You won't have to tinker with different temperature settings with a DynaVap device. Simply heat your pen with a torch lighter until you hear a click, signaling that your device has reached the optimal temperature and is ready to enjoy.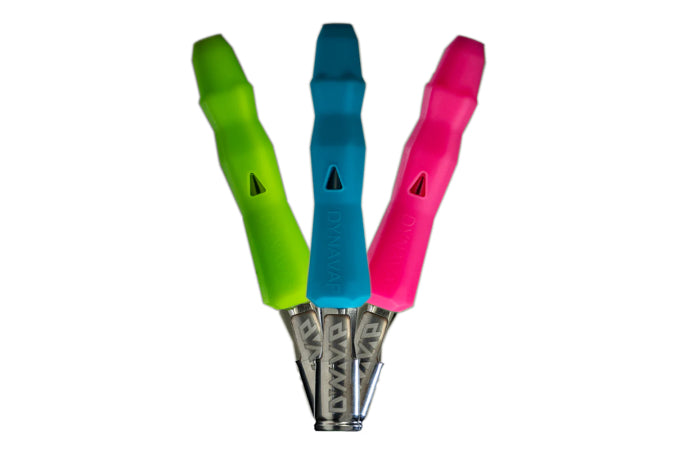 Why DynaVap?
In a market thriving with vape devices, DynaVap stands out as the preferred choice. Our vape pen starter kits are more than just products; they are a representation of high quality and a passion for innovation. Each vape kit is designed to deliver optimal vapor flavor, creating an unparalleled vaping experience every time. One way we stand out among competitors is through our smoke-free and battery-free devices. Battery life is never a concern, and we can guarantee that every product is made with the highest quality materials. When you choose DynaVap, we make sure that every draw is a burst of flavor and excitement. You're not just purchasing a vaping device; you're investing in an experience that prioritizes efficiency, satisfaction, and innovation.